This section advises on some of our Frequently Asked Questions.
How long does a session last?
What will happen in the first session?
The first session is introductory. This means you describe to me what areas of your life you are experiencing the most difficulty and what you would like to gain from your therapy experience. We will also discuss when we will meet, e.g. day/time etc.
How often will we meet?
Typically sessions are weekly, as longer intervals between sessions have been proven to be of less benefit.
How long will therapy take?
The number of sessions can vary as it depends on the needs and wishes of each individual. Some clients have benefited from six sessions, feeling they have had sufficient space to work through a particular issue, whereas some clients are interested in longer-term psychotherapy for a more in-depth experience.
Can I cancel a session?
Yes. However, there is a 48 hour cancellation policy. Otherwise the fee for the session will remain due.
I feel stressed but I can handle my life. Do I need therapy?
Most clients have a sense if they should begin following the initial session, similiarly they know when they feel they are ready to end. I typically review this on an ongoing basis. My approach is that the decision is yours and that we can work together for as long as the work is generating beneficial results and positive change.
How does therapy work? What is expected of me?
Discussing your issues in a safe and trusted space you will begin to understand yourself better and gain clarity. The way I work is anchored in awareness, helping you accept who you are and refraining from being self-critical. You will grow to be self-compassionate, allowing you to feel hopeful, identify choices, and begin to make decisions that are right for you. The experience of being truly listened to gives you the space to speak openly about the issues you are struggling with. As your therapist, I am here to accompany you in this, to help you reconnect with yourself. By letting go of harsh self-judgements you will grow to trust yourself and feel more secure in who you are and how you relate to others. You will let go of behaviours that don't support your true values and life goals.
Will you prescribe medications?
Will what I say to you remain confidential?
Yes. However, there are some exceptions to this. For example: I am professionally obligated to break confidentiality should you be in danger of seriously hurting/harming yourself or others. This will be discussed in our initial session.
Should my partner and I have individual sessions or come together?
I only provide therapy on a one to one basis. I don't currently work with couples.
Do you accept card payments?
No. Payments can be made by cash or through bank transfer (Details will be provided in the initial session).
If you have outer questions, please do not hesitate to contact us, we are here to help, always.
Fully Accredited
Member of The Irish Association of Humanistic
& Integrative Psychotherapy (IAHIP) Ltd.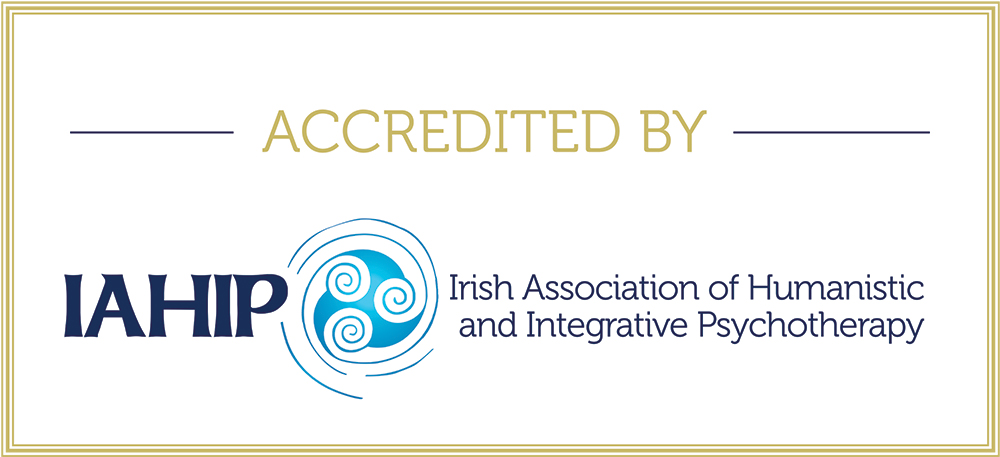 Address
Ballybrack, Glenageary, Co Dublin